WHO WE ARE
---
VPM CLASSES provides specialized education solutions for All India Entrance exams in the higher education segment. We offer more than 1000 courses in over 40 subjects spanning Science, Engineering, Commerce, Arts & Aptitude. We offer classroom, Distance learning and online testing platforms to our customers. Some of the prominent national level exams for which VPM Classes is a market leader are CSIR UGC NET, IIT JAM , UGC NET, GATE, IBPS, IAS/CSAT, TIFR, IISc, NIMCET, JEST, JNU, BHU, ISM etc.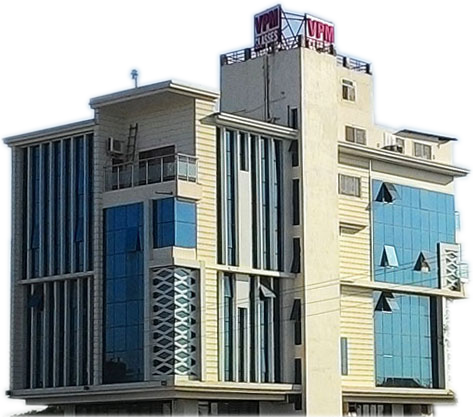 OUR PHILOSOPHY
---
Many students aspire to pursue higher education from the best Universities/Institutes in the country. However, the number of seats available for higher education is limited and thus this leads to extremely tough competition for these few available seats. Successful candidates need to strike a balance between their graduation/jobs and the preparation of competitive exams. Typically, these exams are oriented towards basic fundamentals, qualitative/ quantitative analysis and application of concepts.
At VPM Classes, it is our mission to help students achieve their full potential by providing them the best guidance to face the competition at state and national level entrance exams. Our well organized and strategic study material helps students systematically cover the syllabus of All India Entrance Exams. Our well experienced faculty is well aware of the kind of preparation the student needs to ace these competitive exams.
Frequently Asked Questions
---
How do I contact VPM Classes?

Postal Address: VPM Classes, NO. 8, Radha Nikunj - B Yojana, OPP. Iskcon Temple, Muhana Mandi Road, Near Mansarovar, Jaipur, 302020 (Rajasthan).
Toll Free : 1800-2000-092
Mobile : +91 9001297111
E-mail : vpmclasses@yahoo.com

To post a question, please click here: Provide Feedback




How to apply for a course at VPM CLASSES ONLINE?

Please go to : How To Enroll




How do I get VPM Classes application form?

Please go to: Application Form




How can I refer a friend to VPM Classes?

Please go to: Provide Feedback




How can I provide feedback to VPM Classes?

Please go to: Provide Feedback



DISCLAIMER
---
Notice
This website has been launched to provide the candidates information about various examinations for admission through IITs, JNU, CSIR-NET, GATE , B.Sc. University exams. etc. If you do not agree to the terms and conditions below, do not access this site or any pages thereof.
No Warranty
The information and materials contained in the site, including text, graphics, links or other items - are provided on an "As Is" and "As Available" basis. Although, VPM CLASSES, JAIPUR tries to provide information accurately, it expressly disclaims liability for errors or omissions in this information and materials or changes made by the original INSTITUTES. No warranty of any kind, implied, express or statutory, including but not limited to the warranty of fitness for a particular purpose and freedom from computer virus, is given in conjunction with the information and materials.
Limitation of Liability
In no event, VPM CLASSES, JAIPUR will be liable for any damages, including without limitation, direct or indirect, special, incidental, or consequential damages, losses, or expenses arising in connection with this site or use thereof or inability to use by any persons, or in connection with any failure of performance, error, omission, interruption, defect, delay of operation or transmission, computer virus or line or system failure, even if VPM CLASSES, JAIPUR , or representative thereof, are advised of the possibility of such damages, losses or expenses.
Jurisdiction of Legal Disputes
All disputes shall be at the COURTS / Authorities of JAIPUR, RAJASTHAN ONLY.